I really wanted to take one of the freshly baked cookies my homie, T-Swizzle, was passing around at her house and stuff it into my...into my....
Well, I guess the problem was there was no way to stash away the
pumpkin chocolate chip cookie
I had just personally been offered from a tray held by Miss Swift herself...so I savored the image in my mind (and stomach). I know I can't help being biased, but honestly I have never tasted the most amazing cookies in my life. The texture possessed such a heavenly moist factor. The chocolate morsels oozed joyously out of the tender midsection, drizzling onto my fingers. At this point I freaked out, worried that I would accidentally stain one of Tay's fluffy pillows when I sat back down on the floor of her living room.
Living room? What?
Yes, between gawking at her presence and previewing her highly anticipated new "pure pop" album, Taylor baked cookies for her 30+ guests in her quaint, little abode during an intermission. I was one of those very blessed fans. No, I am not lucky. Luck is random, luck is winning contests, lucky runs out. I'd much rather be blessed because it's more abundant and it means the Big Man up there is gracefully watching over you.
For those of you wondering, I was picked out by Taylor strictly through the process of social media stalking. (I wonder if she has ever been on this blog?!). Maybe this poster I had brought to the Red Tour last year caught her eye?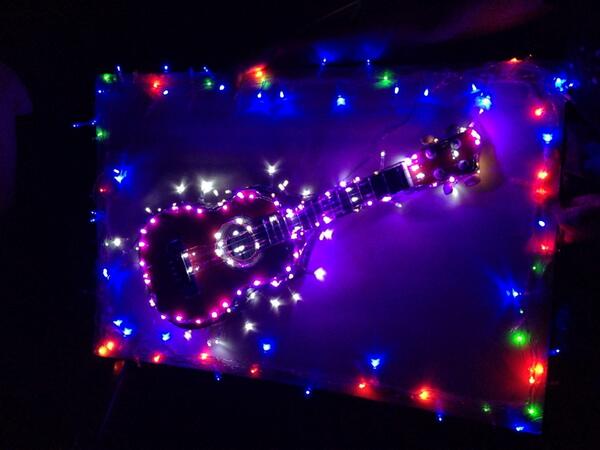 And so, I was contacted through Twitter and asked to meet in a secret location. From there, we were to be chauffeured in limousine buses to another undisclosed location. The catch was that we could not bring anyone and we most definitely could not bring our little iPhones. We finally filed out of the bus into the patio of Taylor's house. Sushi, pizza, appetizers, and refreshments were provided. Through the window we spotted an MTV Award and..could it be...a shiny, golden Grammy? Once we refueled a bit, the excitement rushed again as we were escorted into the house. The rest was history as I cried and fainted in utter shock. JUST KIDDING. I did nothing of that sort because I was just trying to convince myself I wasn't hallucinating. I used her bathroom! I pet her new cat, Olivia! I held her Grammy! I got to tell her, "Thank you for the best 22nd birthday present when your Red Album released the same day as Kendrick Lamar's and you wrote the song '22'."

Seriously though, never in my wildest dreams would this have been a possibility in my reality. In addition to all that, last Friday, I had the opportunity to see Taylor along with an all-star lineup of artists perform at the iHeart Radio Music Festival in Vegas. As if things couldn't get any better, I got to sit front row at The Ellen Show yesterday (taping will be aired today, Sept 23). I would say my weekend went pretty well.
To give you a brief insight, I have actually been having a rough two weeks (eg. The water pipes in my house have malfunctioned, so I have been showering at the gym...don't take water accessibility for granted!). Prior to 2014, I had lost both grandmothers and my uncle within a short time span. While my family was facing financial difficulties, I decided to put my career dreams on hold in order to help out since the industry I want to pursue doesn't compensate very well. Somehow through it all, I kept my chin up and drew strength from my faith. At the end of the day, I am so in awe of life. It's easy to be thankful when you're life is going good, but true gratitude is when you find abundant blessings
even in the storms of life
.
...AND THAT'S HOW THE COOKIE CRUMBLES.
--C.H.
"With man this is impossible, but with God all things are possible."


Matthew 19:26